Normally I'm not into horror gore films, but when I saw this film I couldn't help liking it a little, and felt it had somthing going there until the end that made me feel nothing but question marks..... Sucide club is a 2001 horror thriller about how dangerous it can be to follow a kult.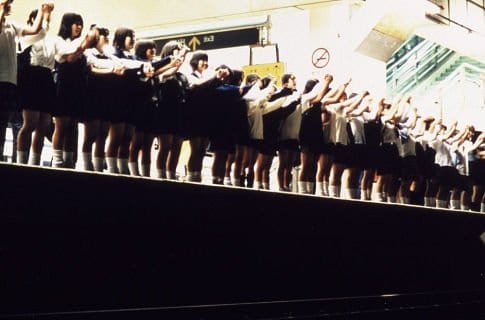 Detective Kuroda is investigating an unusual sucide commit, made by 54 school girls in a train station. Later that night 2 nurses commit sucide by jumping of the window. The day after doesn't get easier for Detective Kuroda when another 11 school kids commit sucide, the witnesses tells him the kids were all cheerful and happy, those words puzzles Kuroda. Later Kuroda get a phone call from a woman who call herself "the bat" and reveal to him all the sucides are connected to a kult called sucide club, and that club is also connected to a kid girl pop group called "Dessert" by their songs performing live on tv sending out codes of when it's time for the next sucide, but who is controlling the kult and why? And how many people are involved with this kult? And worse of all, Kurodas own family are fans of "dessert", could they be the next victim of sucide club?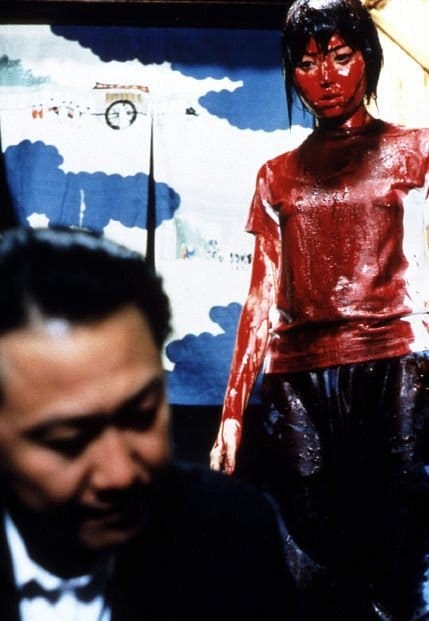 How does it hold as a horror movie?
Horrible, and this is typical horror movies no matter what year it's from, the trust in blood and gore, to make a good horror is to create the situation for the character, the blood can be used somtimes but don't let it take over your movie because it will only be disgusting and horror feeling goes away. As a thriller this movie do well but when the horror scenes starts it become too much blood and gore and I think it didn't need it, so I'm sad to say it's 1/5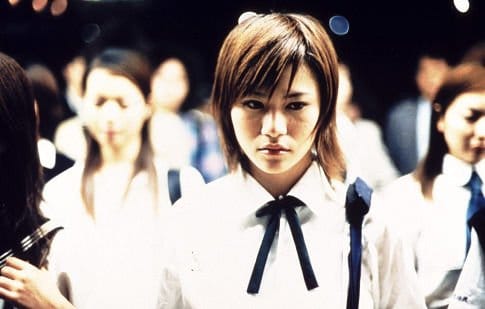 How does it hold as a plot movie?
Very interesting in the beginning, and I feel it could have gone further but somehow it got lost in the end. What it does best is reflect kult life to today's society, for example Facebook, youtubers, Internet critics, and movies and pop cultures like Hollywood can take over your thinking, for example this movie is great because Hollywood says so. And another good reflect is the kid pop group "Dessert" who also reflect today's pop kult like for example Justin Bieber when he was 14, not only was he marketing for girls at his age but also mature women as well, as we call it a victim of pedophilia media marketing, and that's what "Dessert" reflects, in the movie everybody follows the group "dessert" including the detectives family and adults even though the group is membered by five 10 year old girls singing pop songs. But what the movie doesn't do right is the ending, I mean the whole build up about the bad side of kult and when the main villain is revealed is amazingly done but then it's just.....end, just like that. The whole build up with the villain of how evil the villain is by creating the sucide club is strong but when the villain get caught then it ends just like that, a big build up for nothing, it feels very disappointing. And also the build up with the Dessert pop group also ends quickly, so much build up with the group but it just ends without knowing what just happened, and also the leading role Kuroda turns out not to be leading role when it's 20 minutes left or so, so why why are we follow him and his family then? And there is another character who is named Mitsuko, a girl who lost her boyfriend because of the sucide club kult, but she also is unused, she is one scene the whole movie then she come back like in the end of the film as the main character, and there is no build up for her, it doesn't make any sense, for plot it get just 2/5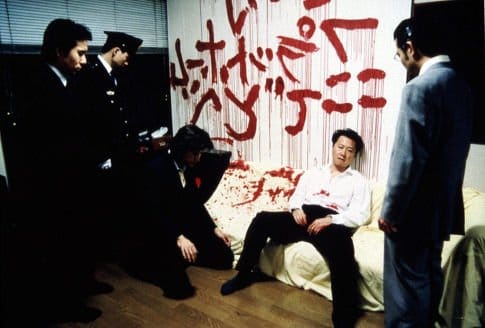 Why was this movie made?
I have a theory, even though the director said his reason during an interview but I think it's more then that. On the paper and IMDb it says the movie is from 2001, but if you look at the quality of the technology in the film and also the lifestyle it's looks more like mid 90s or at maximum late 90s. If you look at the phones and computers and other technology in the film, it's definitely before 1998 or 1996 so it's possible it was filmed in 90s but wasn't finished til 2001. My theory is then that the director wanted to teach the youth not to follow any cult or anything that can hurt you, because during the 90s there was a lot of problems in the youth society in Japan, a lot of kids turned to criminal kult gangs to do bad things, the director properly made this film to educate people not to follow anything just because it looks cool, because it might be your doom. That message is clear what he wanted at the end of the film when Mitsuko is in a theatre and a bunch of kids asking her who she is and she answer she is who she is and she is want to continue be that way, and also in the ending the "dessert" group talks to the audience and give their final message "live your life as possible", if that was the purpose of the film to teach people to no follow any kult, then I lift my hat to him and give one extra point, but could have been a better if it wasn't for the mix of bloods and gore and and the unbalanced ending for some characters.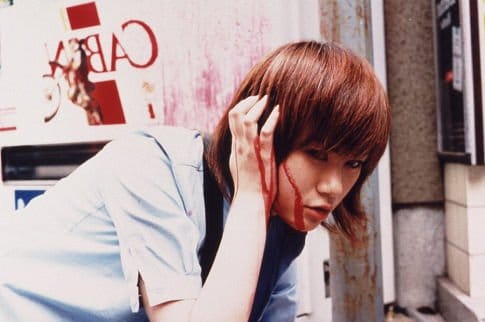 Final result of the movie
I can't complain to much, I was exited at the beginning of the film and it was thrilling to follow the detective when he try prevent the kult of sucide club, but the unbalanced ending leaves me with a lot of questions eventough I can understand the movie but the ending could have been done better and it shouldn't have mixed with blood and gore, final point is 4/10